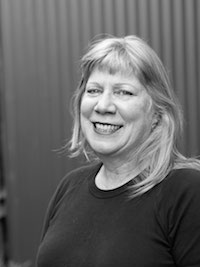 Jane is the founding director of Slow Clay Centre and has practiced as a ceramic artist and teacher for nearly thirty years. Her initial training as an art teacher led to further specialist training as an apprentice to Andrew Halford in Australia and to Shussai-gama in Japan.
Jane holds an MA by Research in Fine Art (Ceramics) and her practice has taken her around the world, including exhibitions and residencies in UK, Denmark and Japan and representing Australia in Collect at the V&A in London. Jane is as equally known for her tactile, expressive ceramics as she is for her unique teaching methods. She has developed a specific way of teaching wheel throwing based on Japanese techniques and ergonomic best practice. It is a natural synthesis of her experiences in East and West, mind and body. Slow Clay Centre was established as a response to the overwhelming demand for Jane's studio classes and is her way to bring it all together with friends.
Jane is a board member of Craft Victoria, the World Crafts Council – Australia and a member of The International Academy of Ceramics, Geneva.