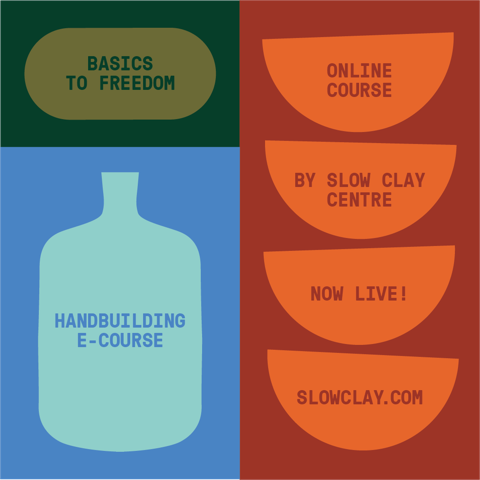 Now live and available ongoing! No start date – work at your own pace. 
Basics to Freedom
A comprehensive online ceramics hand building course targeted to beginners.
Have you always wanted to find out about clay and how to make ceramic objects? This course is for you! It would also make a great gift for any aspiring maker!
35+ video lessons supported by written instructions, inspirational discussions and rich extension activities!
This comprehensive foundation hand building course is perfect for anyone wanting an introduction to clay, to hand built ceramics and to individual personal expression. With warm supportive instruction and encouragement, your tutor, Slow Clay founder Jane Sawyer, will take you on a developmental pathway which emphasises your personal expression and is open-ended and exploratory in nature. Basics To Freedom covers the basics from choosing your clay, where to fire, foundational practical making skills, surface design, colour and glazing, inspirational discussions with real examples from contemporary artists, and a choice of rich extension activities to keep you challenged and engaged and to guide you towards the final goal: freedom to put your ideas into clay!
make at your own pace, move back & forth between lessons and replay videos anytime!
work safely at your kitchen table or in one square metre!
course content updated regularly
enrolment is valid for the life of the course
a perfect gift or treat yourself!
"The topics are great, the learning materials are well designed and I enjoy the high quality videos. So far, I'm really enjoying it and it is exactly what I was looking for. Thanks for creating such an interesting online course." Lisa Yu, March, 2021
Now live online and available for $295!
We gratefully acknowledge seed funding support for this project from YarraCity Arts. The project was created in 2020 as we navigated two substantial lockdowns and had limited access to our studio.
Enquiries: 99437844 / info@slowclay.com