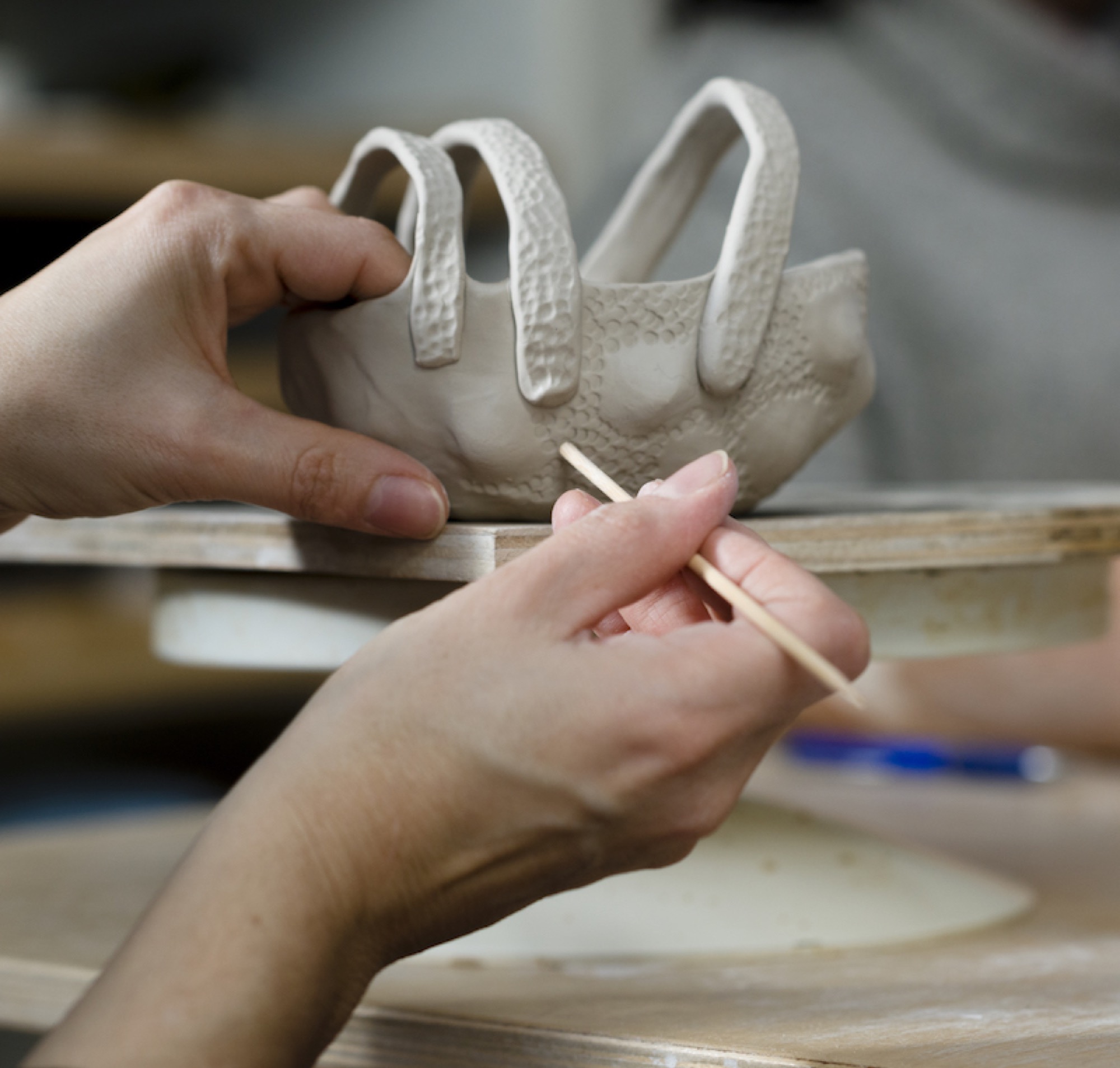 Covid update: We are still wearing masks in our studio. NEW: refund insurance available at check-out.
Term 2: 2 May – 20 June (Bookings open now! )
Term 3: 25 July – 16 September (Booking date TBA)
Term 4: 3 October – 23 November  (Booking date TBA)
Note: no classes on public holidays
If you have booked a class that was cancelled due to lockdowns please email us to ensure you are enrolled or transferred to another class.
Times: Thursdays 10 – 12pm, 1 – 3pm and 6 – 8pm. Choose one time slot and attend for once a week session! No classes on public holidays.
Content: In this course students will investigate different approaches to working with clay using hand-built and sculptural techniques. Beginners start with playful, experimental projects and more experienced students are encouraged to develop a strong personal direction.
Experienced teacher and ceramic artist, Pilar Rojas, provides a seductive smorgasbord of clay activities designed to open your mind to the many possibilities with clay forms and their decorative surfaces. No prior experience is necessary because each week takes you on a step-by-step pathway guiding new discoveries. Starting with three different clays, you will learn from the ground up! You will explore an exciting array of options for their surfaces and discover how each clay is intimately related to the visual options for it's surface. Our students constantly feed back that Pilar is one of the most knowledgable, patient and dedicated teachers around. This is a fun and gentle class for people who don't want to be limited to the concentric! Follow the flow and see where it leads you…
When: Enrol by the term, see dates and times above.
Size limit: due to the limitations of our storage space we limit the size of objects to 30cms cubed.
Booking info: Enrolments open half way through a term for the forthcoming term. Please return to this page to check the date and refresh your browser after the booking date to book online.
Click on the option you want and you will be re-directed to another booking page AND you must choose your course time AGAIN on the second page from the drop down menu on the top right! Please choose carefully because we do not give refunds if you make a mistake. We do not keep waiting lists, sorry, but we do keep cancellation lists so if you miss out please email us and we will put you on a list.
Fees: 8-week term $585 ($565 Continuing Students and Concession). Cost is inclusive of all materials and use of all studio facilities Firing is $10/kg extra.
Missed Lesson and Studio Access Times (SATs): SATs are 3 hour sessions available to students to use our facilities for some extra making time. One missed class per term can be replaced by a free SAT. Unlimited further SATs are $30 per session. Times and days are subject to change pending studio needs and will be communicated to you by your teacher in the first class. Fee per session includes all materials. Form & Surface students do not need to book.
*We follow all government regulations and require students to be fully vaccinated unless you have a medical exemption. Thank you for your compliance. 
Please note: Deposits are a commitment to attend. They are non-refundable and the balance must be paid in full three weeks before the start date. When paying by deposit online the balance will be automatically deducted from the same credit card three weeks before the course start date through our booking agency We Teach Me or you will be given a link to click and pay. Please note: due to limited places and high demand, if the balance is not received before the required date we reserve the right to offer your place to someone on our cancellation list.
Refunds
Please choose your classes carefully. Due to our limited class sizes once you've booked and paid either the deposit or the full fee, we will only refund what you have paid if the class is cancelled. If you are unable to attend you may transfer your booking to a friend for no charge or, provided we can fill your place, we can hold your payment in credit for up to 12 months for a future course. Please note: we do not take any responsibility for pre-existing health issues that may be exacerbated by being in our studio. Please seek a doctor's opinion or ask us if you need moe information.