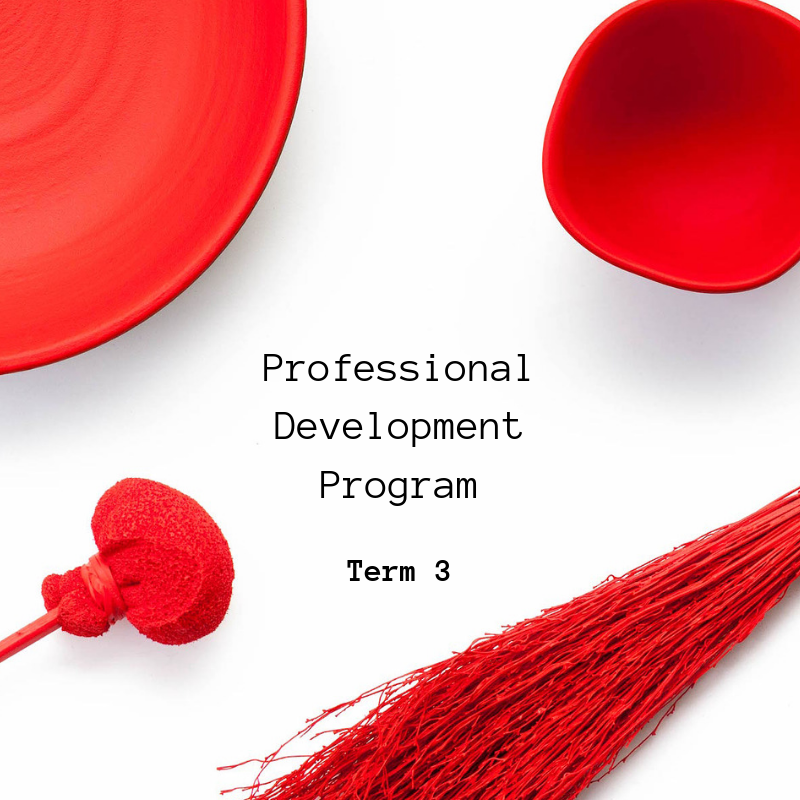 There are no available dates for this class at the moment please register your interest by subscribing to our e-Newsletter.
Term 3 (Unit 5 & 6) of the 2019 inaugural Professional Development Program (PDP) at Slow Clay Centre is active for booking: 12 June.
Unit 5: 22 July – 12 August, Mondays 1-3.30pm
From Thinking to Doing: Breaking Down the Creative Process with Pilar Rojas
Often people think that a professional artist uses mastered techniques, to bring into the physical world whatever they see in their mind's eye and that this talent is limited to a lucky few, but these are both misconceptions. Creating is all about the process of investigating an idea and taking steps to transform it into something tangible. It is about being open to accept that what comes about as a result of an analysis, may not resemble what you first had in mind. It is about allowing your ideas to change and grow as a result of having new information, trusting that if the process does not take you to a resolution but to a new beginning, the journey matters more than the destination.
This course is designed to develop your creative potential. We will analyse the creative process by discussing and expanding on each step with practical exercises. All you need to bring is an open mind, but with a sketch book and pencil you will be able to keep a journal of your experience.
Unit 6: 19 August – 9 September, Mondays 1-3.30pm
Finding Your Passion with Jane Sawyer
This unit will build upon techniques learnt in Unit 5 to help identify your area of interest and narrow the field to a direction that will reward with deep meaning, commitment and passion for the future. Students often feel overwhelmed by the wide choices of techniques and processes available within the field of ceramics. They can sometimes feel that their work is made in isolation and does not have meaning to them or to their culture. Couple this with a society where art is often seen as a lucky escape from life or an expensive hobby, it's no wonder that many of us give up at the first hurdles.
This course will provide a "tool-box" of techniques to help bring you back on track to the importance of your personal expression and how to keep going when the going gets tough! An artist statement that can be used for applying for grants and exhibitions will be a bonus outcome. Jane has delivered this course at tertiary level on a number of occasions.
The PDP course of study over a one-year period is designed to supplement our practical studio subjects to expand what we can offer our students. The program has been developed with great care and consideration and helps to create a significant pathway to development. Eight units of study make up a broad and comprehensive foundation for continued development in areas that are not covered in our practical studio courses. Each term is offered for enrolment separately but priority is given to the previous term's students. Each term consists of two different but synergistic units of study taught by industry leaders, experienced teachers and practicing artists, who will bring extraordinary inspiration and insight to the program.
Content: The study units for each term in 2019 are:
Term 1: Drawing with Sarah Tomasetti and Design with Simon Lloyd (bookings closed)
Term 2: Clay, Kilns & Firingwith Robert Barron and Glaze Development* with Greg Daly (bookings closed)
Term 3: From Thinking To Doing with Pilar Rojas and Finding Your Passion with Jane Sawyer (Bookings open 12 June)
Term 4: Ceramics & Context with Gary Macphedran and Business & Marketing with Ingrid Tufts (Bookings open 21 August)
When: All units held Mondays 1-3.30pm except *Glaze Development
Fees: Term 3 fees: $480-$535
Bookings: Each term will open for booking on the dates above.
Pilar Rojas:  Pilar has an extensive background in ceramics and is an experienced teacher and practicing ceramic artist. She was brought up in Spain then lived in London for ten years where she graduated from the famous Harrow School of Art and then set up a studio. Later in Melbourne she obtained a Master of Fine Art by research at the VCA. As an exhibiting artist in Australia she had solo exhibitions at Craft Victoria and The George Gallery in Melbourne and Access contemporary Art in Sydney. Her work is included in private and public collections including the National Gallery of Australia, Powerhouse Museum, Museum, Art Gallery of the Northern Territory, Shepparton Art Gallery. She has also taught at the Victorian College of the Arts, NMIT and recently at University of Granada, Spain, where she also owned and ran Artefactoria, a boutique gallery. Pilar joined the teaching staff at Slow Clay Centre in 2015 and views making as a philosophy, a way of thinking and a way of life. She has a keen interest and understanding of the processes and pathways to creative and lateral thinking and is perfectly placed to lead Unit 5 of the PDP program.
Jane Sawyer:  Jane is the founder of Slow Clay Centre and has practiced as a ceramic artist and teacher for over thirty years. Her teaching experience includes lecturing in the tertiary sector, public and private. Jane holds an MA by Research in Fine Art and her practice has taken her around the world, including training in a traditional studio in Japan and exhibitions and residencies in the UK, Denmark and Japan. She was a finalist in the Vitrify Ceramic Awards in 2013 and is represented in public and private collections. Jane is active in the ceramics community, is a board member of The World Crafts Council – Australia, a member of  The International Academy of Ceramics and sat on the board of Craft Victoria. Jane brings her significant experience and skills to the PDP Unit 6 by helping students to focus and analyse their specific interests with a view to creating a deep and long-term pathway for their practice.
Please note: Deposits are a commitment to attend. They are non-refundable and the balance must be paid in full three weeks before the start date. When paying by deposit online the balance will be automatically deducted from the same credit card three weeks before the course start date through our booking agency We Teach Me or you will be given a link to click and pay. Please note: due to limited places and high demand, if the balance is not received before the required date we reserve the right to offer your place to someone on our cancellation list.
Refunds
Please choose your classes carefully. Due to our limited class sizes once you've booked and paid either the deposit or the full fee, we will only refund what you have paid if the class is cancelled. If you are unable to attend you may transfer your booking to a friend for no charge or, provided we can fill your place, we can hold your payment in credit for up to 24 months for a future course. Please note: we do not take any responsibility for pre-existing health issues or injuries that may be exacerbated by the activities we teach you. Please seek a doctor's opinion or ask us if you need to know more.
Contact: Tel 99437844   Email: info@slowclay.com
*Note: Glaze Development with Greg Daly will be held over the weekend 24-26 May.