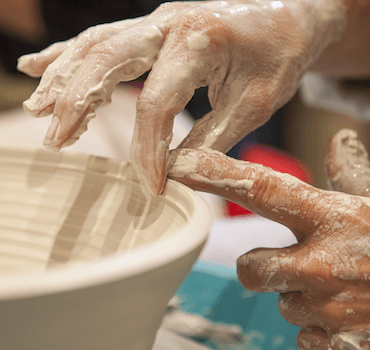 Our studio ticks all the Covid safe practices including *mask wearing for students and staff, air purifiers and extraction fans in each classroom and Covid cleaning after every class.
Social fun and a great Friday evening! You could bring a friend or two and hit the town afterwards!
This single session pottery wheel throwing taster class will give you the perfect introduction to what it's like to learn to use the pottery wheel. Have some hilarious fun while trying out something new or, if you are already experienced, just come to renew your clay connection! Our wonderful teachers will guide you every step of the way with careful, sound tuition and an open mind for fun!
The perfect gift: Our wheel taster class is also the perfect gift or activity for your Friday evening post-work wind-down or date night! Bring some friends and hit the town afterwards at our fabulous Collingwood bars or restaurants! Classes are social and fun and held most Friday evenings.
What you get: A wonderful experience and you can choose to keep two pieces for us to glaze and fire to be collected a few weeks later, fully included in the fee. You'll be surprised that most people can learn the basics of how to make quite respectable small pots even if they've never done it before!
Booking: Forthcoming dates usually open a month in advance. Watch the left of this page for the next dates!
Fee: $120 Normal/$95 Concession (includes full tuition, all materials and firing and glazing of two pieces)
IMPORTANT INFO:
After choosing a date on the left of this page you will be re-directed to another booking page. Please double check your details and date is correct!
Bookings are a commitment to attend. If you are ill or cannot attend we can occasionally transfer you to another date but only if we can find a replacement for you.
NEW: Refund insurance is now available at the checkout for an extra 10%.
We encourage you to sign up to our newsletter and add us to your email contact list for all updates.
*Covid update: We ask all students to wear N95 masks inside the building. This allows our teachers to teach without a mask which improves your comprehension of instructions. It also helps to protect vulnerable members of our community. Thank you for your understanding. 
Note: If you received a credit note from us in 2020-2021 due to cancelled classes in lockdowns you are welcome to email us on info@slowclay.com if you need help to redeem your credit note. 
Contact: Tel 99437844 Email: info@slowclay.com