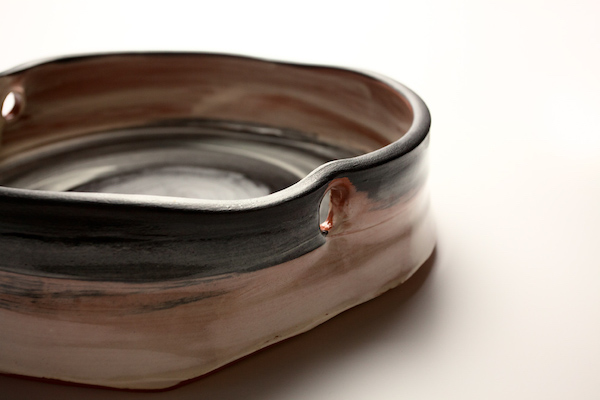 There are no available dates for this class at the moment please register your interest by subscribing to our e-Newsletter.
Please note: this workshop was held on 3 October 2021. We will leave this page up and if you wish to attend a future date please email us to go on the waiting list.
This online Zoom workshop is presented by Slow Clay Centre and the Craft Contemporary 2021 Festival. It will include a demonstration, a visual presentation and Q & A.
"Jane Sawyer's teasing vessels are finely balanced between awkwardness and elegance, indolence and vitality, playfulness and solemnity. They are forever in a state of becoming" *
Jane Sawyer will demonstrate some of the many techniques that have evolved over the past two decades from her unique free-style wheel throwing to her signature altering, manipulating and slip coating. A visual presentation showing the underlying threads of the development of Jane's style will punctuate the demonstrations. Jane is looking forward to a lively exchange about making ceramics and living a life around clay and pots.
Jane's work is based on the premise that the maker, the material and the method dwell within a an equal and symbiotic dynamic relationship. Opening our awareness through touch and response can provide a meaningful pathway to evolving through clay. Jane draws on a blend of contemporary design, craft practice and conceptual curiosity. Versatile ceramic objects that sit somewhere between sculpture and function engage both the tactile and the visual senses, breaking down distinctions between art, craft and design, and provoking innovative use.
"Fluid, gestural and tactile, my ceramic art reflects an interest in, or perhaps an obsession with materiality, movement and engagement through the sense of touch. The physicality of the relationship between clay and our bodies interests me. Clay, like flesh, responds to and reflects touch. Using very soft clay and wet slip (a creamy clay coating) the fluidity of the material encourages movements to be simplified, refined and "choreographed" – an essence of the expression of gesture. Through this language of touch I seek to provoke intimacy and connection, from the wet clay to the "fired-frozen" object and it's life beyond my studio. Objects that will inhabit other environments whether domestic, gallery or landscape, can provide multiple dimensions for reading and provoke unique responses."
Tickets:
Early bird: $18 (book before 10 September)
Normal: $25
All welcome although some knowledge about ceramic terms will be helpful.
Bio:
Jane Sawyer is the founding director of Slow Clay Centre and lives her life centred around clay. She completed a degree in art education majoring in ceramics which led directly to specialist full-time ceramics training with Andrew Halford, Sydney(1982-85) and Shussai-gama, Japan(1985-87). Jane's first studio was in Edinburgh, Scotland(1987-1990) from where she exhibited throughout the UK. She returned to Autralia in 1990 and established a studio in inner city Melbourne. She is a passionate educator and founded Slow Clay Centre in 2012 to provide a comprehensive ceramics educational facility. Jane holds an MFA by research (RMIT, 2002) titled The Evocative Object, which investigated the power of the functional object to communicate through the sense of touch. Her ceramic practice has taken her to residencies and exhibitions in UK, Denmark and Japan and her work has received many awards and is held in institutional and private collections. Jane has served on the board of Craft Victoria,The World Crafts Council – Australia and is an exhibiting member of the International Academy Ceramics.
www.slowclay.com
info@slowclay.com or call 03 99437844.
*Peter Timms, The Age arts review, 2007