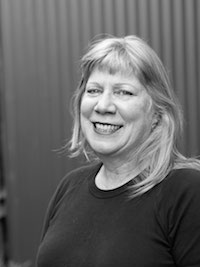 Jane Sawyer founded Slow Clay Centre (SCC) in 2012 and has practiced as an exhibiting ceramic artist and teacher for over thirty years. She coordinates SCC's strategic planning, management and teaches in the Intermediate/Advanced wheel throwing, Weekend Intensives and the Studio Practice Program.
Jane holds an MA by Research in Fine Art (Ceramics) and her ceramics practice has taken her around the world, including exhibitions and residencies in the UK, Denmark and Japan including Collect at the V&A in London, The Snake in The Garden, touring the UK, and Tableware in Denmark. She was a finalist in the national Vitrify Ceramic Awards (2013) and is represented in public and private collections.
Jane is as equally known for her tactile, expressive ceramics as she is for her unique teaching methods and has developed a specific way of teaching wheel throwing (the Slow Clay(tm) method) based on Japanese techniques and ergonomic best practice. It is a natural synthesis of her training and working experiences in Japan (with Shussai-Gama pottery, 1985-7) and Australia (with Andrew Halford, 1982-5), East and West, mind and body, heart and hand. Jane brings a deep respect for the creative process as a lifelong journey and leads Slow Clay Centre to be a welcoming community from professional artists to beginners, designers and craftspeople. Slow Clay Centre was established in 2012 as a response to the demand for Jane's long-established private studio classes and has enabled a dynamic expansion which  includes many other artists and industry colleagues. Jane is widely respected as a leader in ceramics education.
Jane is a former board member of Craft Victoria and The World Crafts Council – Australia, and is a member of  The International Academy of Ceramics, Geneva.