There are no available dates for this class at the moment please register your interest by subscribing to our e-Newsletter.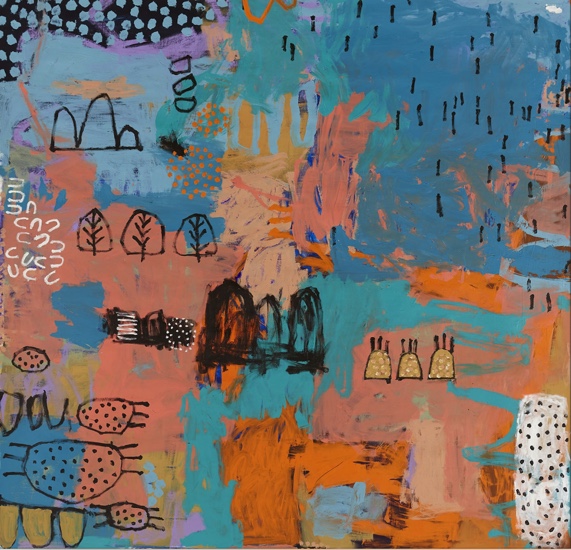 This presentation was held on 1 May, 2022.
Earth : Country, guest artist demonstration & presentation with Naomi Hobson.
Cape York artist Naomi Hobson is Slow Clay Centre's artist in residence in April making ceramic work for an important exhibition, Earth : Country, in conjunction with the upcoming Australian Ceramics Triennial in Mparntwe (Alice Springs) in July.
Naomi's residency will conclude with a guest artist demonstration and presentation  at Slow Clay Centre on Sunday 1 May, 1 – 4pm. We will hear about her wide ranging practice which not only includes ceramics but painting and photography. She will discuss concepts and influences and demonstrate some of her her processes which are intimately related to Country. Naomi refers to her clay work as grounding her cultural identity. The works are inspired directly from her interpretations of her belief system, which she will share with us. They keep her totemic spiritual ancestors alive and by doing so get people to wonder and absorb this rich cultural transmission.
Please join us for this very special afternoon with artist Naomi Hobson. Bookings are essential for this limited ticket event.
Sunday 1 May
1-4pm
$125 normal/$95 concession
Slow Clay Centre
13 Keele St, Collingwood
CoVid19 update:
All participants must be fully vaccinated to attend and our studio follows all Covid Safe protocols. If we have to re-schedule due to a local Covid outbreak or if border closures prevent teachers attending, we will offer either a refund or credit note. We do not give refunds for any other reason however you can purchase refund insurance at the checkout gate.
Pre requisites: None. This event is suitable for anyone.
About Naomi Hobson: Naomi Hobson is a Southern Kaantju woman who lives in Coen, a small Aboriginal town of 360 people in the centre of Cape York Peninsula in far north Queensland. A multidisciplinary artist, she regularly works across the mediums of painting, ceramics and photography. Inspired by her direct environment, Hobson's works express her ongoing connection to Country and her ancestors' ties and relationships with their traditional lands.
"My aboriginality is what grounds me. Through art I get to freely express all of this. I can share my creative freedoms in a contemporary way. My style also reflects my individuality… I want my work to tell my stories in an innovative way, I want to introduce new work, to maintain a point of difference, I am wary to re-define and not recycle."
Hobson's  work has been acquired by institutions including the National Gallery of Australia, National Gallery of Victoria, Museum of Contemporary Arts, Art Gallery of South Australia, Queensland Art Gallery of Modern Art, Museum and Art Gallery of the Northern Territory, Bendigo Art Gallery, Shepparton Art Museum, Cairns Art Gallery. Naomi's work is held in significant public and private collections nationally and internationally and she is represented in Melbourne by Vivien Anderson Gallery.
KEEP UP: sign up to our monthly e-newsletter to keep up with all new course, workshops and events.