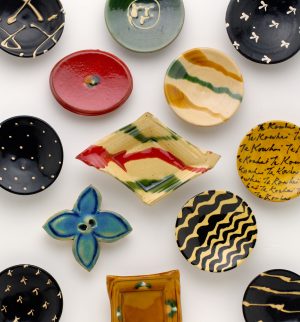 There are no available dates for this class at the moment please register your interest by subscribing to our e-Newsletter.
This workshop is now over. Please subscribe to our newsletter to be informed of more workshops like this and to see videos of past workshops.
Richard Parker could rightfully be described as a legend of New Zealand's ceramic community with a career that has spanned nearly 5 decades. He is a passionate artist and a dedicated educator and we are very excited to present him to you in Melbourne!
Parker works in a gutsy, strong terracotta clay covered with a local white slip. His signature work where he took an old idea – wire-cutting into a solid block of clay – and shaped his works as three-dimensional drawings, have an immediacy and audacity that is fresh and spontaneous. These works have attracted considerable critical acclaim nationally and internationally.
Visiting Australia as a guest of Clay Gulgong 2018 festival in NSW, we have also convinced Richard to come to Melbourne for this one-day workshop! He will present his key developments and will demonstrate a range of his iconic hand built and wheel thrown forms, including the construction methods and decorative techniques he uses. The day will include plenty of rich informative discussion surrounding how to develop concepts and make a living as an artist. He will even offer a mystery activity to get your hands excited!
Richard Parker has received significant accolades including the Premier award in the NZ Portage Ceramic Awards and recognition by Objectspace as their inaugural Master of Craft in 2011. He was commissioned for New Zealand's parliament buildings and was invited to demonstrate at the Second World Ceramic Biennale in Icheon, Korea. He is an elected as a member of the International Academy of Ceramics, Geneva. Parker's work is held in many collections including The Dowse Art Museum, the Museum of New Zealand Te Papa Tongarewa, the Otago Museum, the Suter Art Gallery in Nelson, the Whangarei Art Museum and the Powerhouse Museum in Sydney.
1-day demonstration workshop (with a mystery activity thrown in!) 
28 April, 10am – 4pm
Student/UE $165
Normal $195
"I have known Richard for a number of years and his workshop would be one I wouldn't miss. He thinks outside of the box, his iconic vases are not thrown, coiled or slab built but cut from a block of clay, giving a fresh bold fluid feeling to them. He is also very engaging." Greg Daly, March 2018