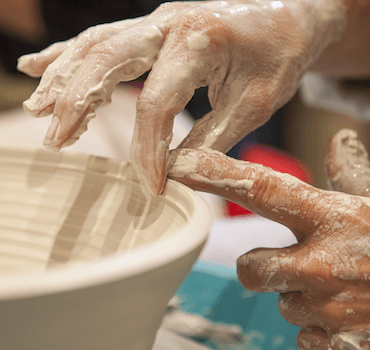 Can't attend a weekly course? Our fun-packed Weekend Intensive Wheel Course covers the SAME course content as our popular 8-week term of Beginner's Wheel compressed into one weekend (plus an extra glaze lesson a few weeks later!). We can also cater for individual differences if you have prior experience or simply wish to learn our method based on Japanese techniques. This is a rare chance to learn directly from Slow Clay Centre founder Jane Sawyer.
2024 dates NOW OPEN for booking:
27-28 January 2024
20-21 April 2024
20-21 July 2024
2-3 Nov 2024
Prices:
$625/$595 concession. Includes all materials.
$30 optional glaze class includes firing (dates are at minimum one week later to be decided by each group) If you can't attend the glaze class don't worry! We can glaze your pieces and send them to you.
Our Weekend Intensive course is offered once per term and is an alternative to our weekly Slow Clay pottery classes. It is suitable for complete beginners or intermediates who would like to be introduced to our ergonomically sound methods of working on the pottery wheel. Packed into one weekend plus an optional glaze class (held a few weeks later) our Intensives cover the same content as a whole term of 8 lessons. Using our Slow Clay methods based on Japanese techniques, students will come away with a solid foundation to develop in the future. The Intensives are very popular with interstate people or those who for various reasons cannot enrol in weekly classes.
Content: preparation of clay, introduction to Slow Clay methods and solid time practising them according to your skill level, visual presentations and lots of discussion! Intermediate and advanced students can work on forms at a higher level appropriate to their skills. Students can choose to finish and decorate their pieces to prepare them for firing and attend an optional glaze class a few weeks later at a mutually agreed time ($30 fee includes firing). Time: 10am – 4pm both days. Interstate students can arrange for their work to be glazed, fired and posted to them ($30 plus postage)

Refunds
Please choose your classes carefully. Due to our limited class sizes once you've booked and paid either the deposit or the full fee, we will only refund what you have paid if the class is cancelled. If you are unable to attend you may transfer your booking to a friend for no charge or, provided we can fill your place, we can hold your payment in credit for up to 24 months for a future course. Please note: we do not take any responsibility for pre-existing health issues or injuries that may be exacerbated by the activities we teach you. Please seek a doctor's opinion or ask us if you need to know more.
Please note: Deposits are a commitment to attend. They are non-refundable and the balance must be paid in full three weeks before the start date. When paying by deposit online the balance will be automatically deducted from the same credit card three weeks before the course start date through our booking agency We Teach Me or you will be given a link to click and pay. Please note: due to limited places and high demand, if the balance is not received before the required date we reserve the right to offer your place to someone on our cancellation list.
Note: New dates appear regularly so if current dates are fully booked please return to check in a few weeks!
*Covid update: Our studio follows all Covid safe practices including air purifiers and extraction fans in each classroom and Covid cleaning after every class. Note: new refund insurance is available when you book online and is advisable.
Further T&Cs: Please read our FAQs carefully!
"I have just arrived home feeling tired but very satisfied and inspired after a jam-packed weekend intensive led by highly skilled potter and teacher, Jane Sawyer, and ably supported by her lovely and capable technician Alyssa Nuttall. I came to the class as someone who had thrown pots several years ago but was very rusty. Jane was able to adapt what she was teaching to suit different levels of experience and I learnt 'slow' techniques that I am keen to adopt as a new and more sustainable way of working on the wheel. I highly recommend this course." Fiona, 14/11/21
Contact: Tel 99437844 Email: info@slowclay.com