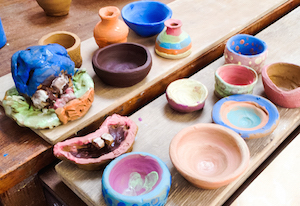 About Our Class
Clay Club is our children's school holiday pottery Class held over two consecutive mornings each holiday period.
Next Date: 6-7 July 9.30am -12pm Bookings open now! 
Who should come:
8-16 year olds children who must be mature enough to listen to teacher's instructions and work independently when requested. If your child /children has/have special needs please consult with us by phone on 99437844 before enrolling them.
Content:
Young people can experience all options for expression and skill development in clay! Our classes are a great introduction for any budding potter to receive focused, developmental instruction on the wheel and/or hand-building using our renowned methods. Kids can work at their own pace but also get plenty of inspiration and instruction!
Teachers
Nell Hanson and Sabrina Talarico.
Important Information
How to enrol
Enrolments: See booking buttons on left. Holiday classes are open for booking a term ahead.
Also check out our after school weekly classes here.
Take advantage of our friend/sibling discount (limit one per booking) 
Price: $210/$195 Bookings open now! 
Note: Refund insurance is available at the check out gate in case of cancellation. 
How to contact us:
Tel 99437844 Email: info@slowclay.com
Covid
Please refer to our FAQ for our Covid Policy.