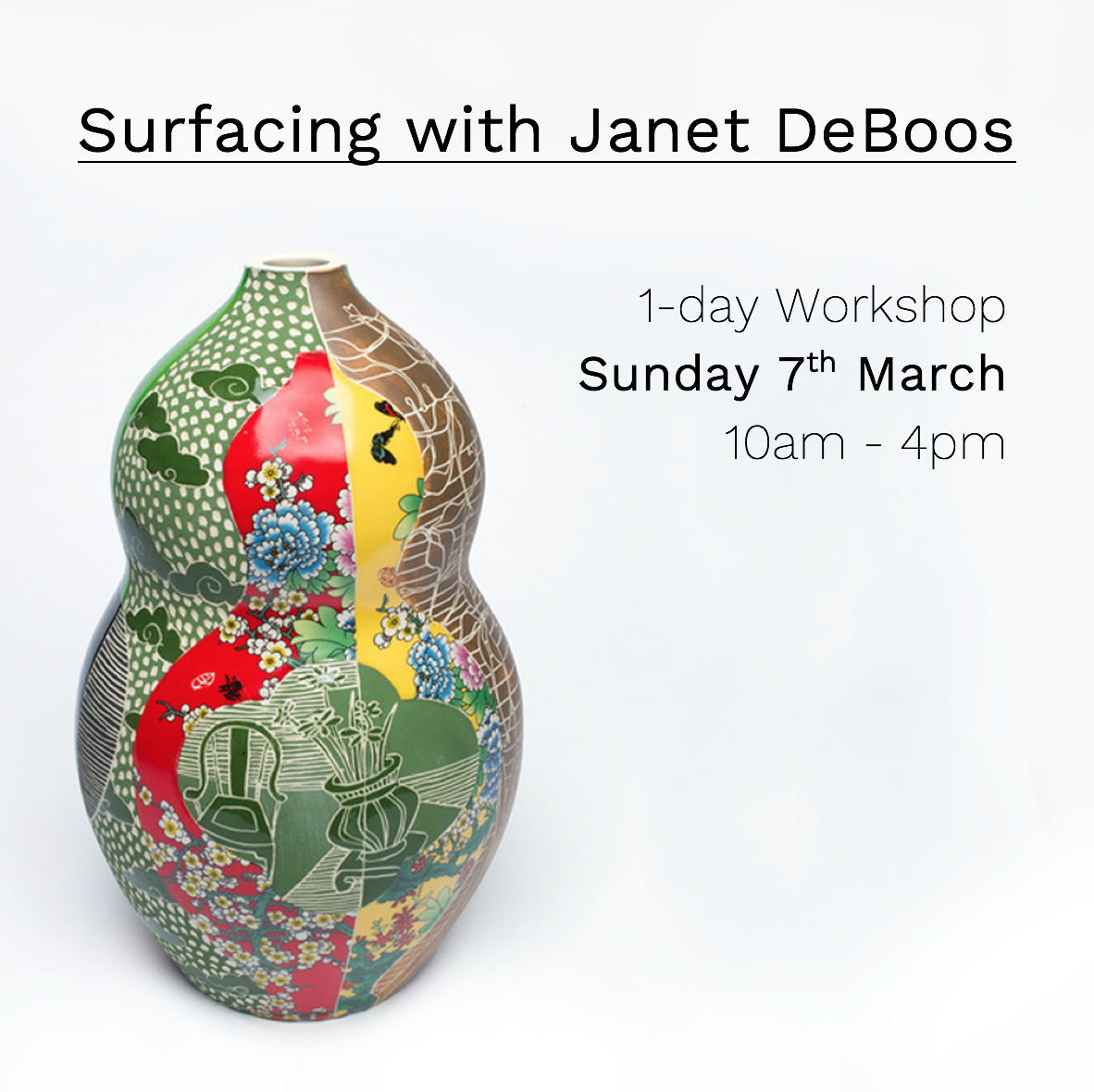 There are no available dates for this class at the moment please register your interest by subscribing to our e-Newsletter.
Hi there! This workshop with Janet DeBoos is over and we are sorry if you missed it but if you like the sound of it please email us to get on the waiting list for the next ones!
Latest news: May 2023 update: Janet is returning to teach Surfacing in our Winter School 26-30 June 2023. See more here
CoVid19 Update:
Our studio follows all Covid Safe recommendations. If we have to re-schedule due to a local Covid outbreak or border closures prevent teachers attending, we will offer either a refund or credit note. 
Class Schedule: Please watch this page for future dates or email us to get on waiting list.
Sunday 7 March 2021, 10 – 4pm (closed)
Monday 8 March 2021, 10 -4pm (closed)
What You Will Learn
Workshop content:
This workshop will explore the potential of the graphic surface developed by using sgraffito technique along with a layered mix of natural materials such as slip and terra sigillata, as well as commercial underglaze stains, image transfers (under and overglaze), resists of various kinds, and glaze itself.
Participants will not only see demonstrations of these techniques but will be fully involved by working on tiles/ test pieces provided.
Even if you think you 'know' these techniques, Janet DeBoos brings her experience as a teacher and artist to open the door to a less conventional way of using them.
What You Get
Inspiration and 'planning a surface'. ('where does an idea come from?")
Use of templates for underglazes & slips and various resists latex/paper/wax
Brief underglaze decals (tissue transfer)
Making terra sigillata (including finding a suitable clay and developing an 'eye' for possibilities)
Demonstration of using terra sigillata.
Student exercise: decorating 2 tiles (maybe more) with terra sigillata, transfers etc, underglaze etc. and sgraffito
Talk about tools and potential of various kinds of mark making
Overglaze (decals & china paints) demo, and student exercise on already glazed tiles or blanks (usually start with this- and whack in a kiln. But with one day- no firing…)
Slide presentation of Janet's work
Pre requisites
This course is suitable for potters or practitioners with a strong interest in decorative techniques for the ceramic surface. It would be most suitable for intermediate-advanced ceramics students however beginners will also find it helpful. Some understanding of clay, ceramic materials and firing atmospheres will be helpful.
Description
This one day workshop is a rare opportunity to connect with and learn from internationally respected artist and educator Janet DeBoos. Janet will share her surface decoration techniques in simple, uncomplicated ways and discuss the development of her work over her career. Janet's work utilises a range of universal surface techniques (described above) and she will discuss her individual approach and encourage you to find your individual voice by using test tiles. You will be able to have a go in practice and either choose to have your tiles fired or take them with you to fire yourself.
Price: Full Price: $245, SCC students/Concession: $215
About Janet DeBoos: Janet is a highly respected artist and educator and regularly exhibits nationally and internationally  (UK, Netherlands, Belgium, Greece, Spain, South Africa, Canada, United States, Korea and China). She has work in major permanent public collections in Australia, UK, United States, Canada, China, Taiwan, Belgium, and New Zealand. She has written two best-selling books on glazes (*Glazes for Australian Potters and More Glazes for Australian Potters), co-authored Handbook for Australian Potters, and has written numerous articles for Australian and International Ceramics journals on ceramic art practice, education and glaze technology. Janet was Head of Department (Ceramics) at Australia National University for fifteen years, Head of Ceramics at East Sydney TAFE, and ran a production pottery (Brindabella Pottery) for almost twenty years between. She was Emeritus Fellow, Australian National University School of Art & Design (2013-2018) and she sat on The Council of the International Academy of Ceramics and represented Australasia and Africa 2012-2020.
Janet has conducted workshops/given demonstrations in all states of Australia, New Zealand, mainland United States and Hawai'i, Canada, UK, China, Japan and Korea; been an invited speaker at NCECA (National Council for Education in the Ceramic Arts) conferences in Colorado, Seattle, Ohio, Oregon and California; also delivered papers at most Australian National Ceramic Conferences; co-chaired and was program organiser at 8th National Ceramics Conference in Canberra and on committee for 2015 Australian Ceramics Triennale, which she chaired. Janet DeBoos is represented in Australia by Sabbia Gallery.
*Glazes for Australian Potters has been re-printed due to demand and will be available during the workshop.
KEEP UP: sign up to our monthly e-newsletter to keep up with all new course, workshops and events.