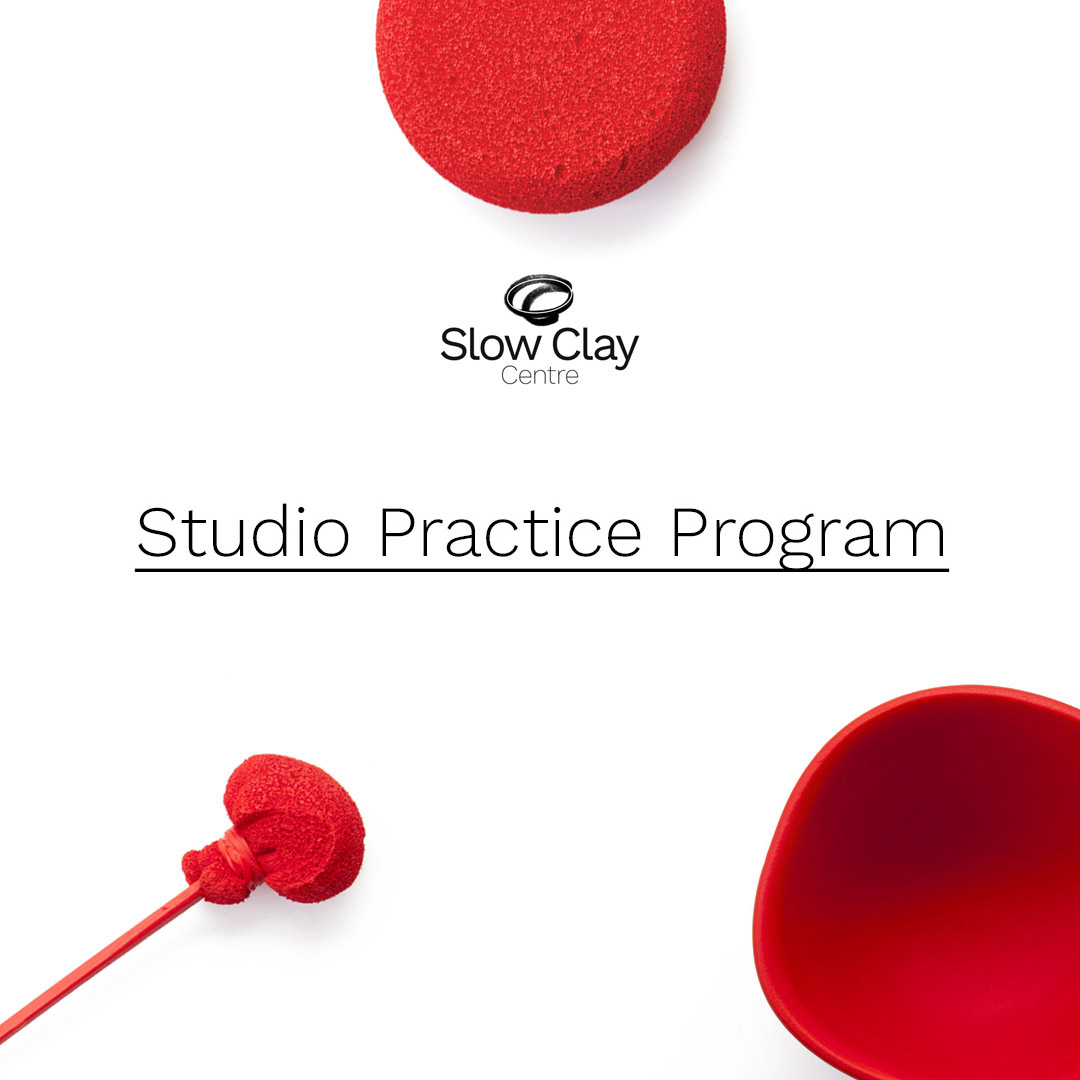 The Studio Practice Program (SPP)* offers students who have a strong practical interest in ceramics some of the important extra stuff! It is geared towards supplementing practical studio studies with subjects that are more theoretical and that are helpful for development as a practitioner. It is not necessary to have a high practical skill level although it will suit students with a good level of experience and interest.
Scroll down for detailed content and book using buttons on left
Over the course of one year, a number of complimentary units of study are offered which together will make a comprehensive course.  Subjects in 2020 include Drawing for Design & Expression; Creative & Lateral Thinking; Clay, Kilns and Firing; Ceramics in Context and Business & Marketing. Enrolments can be by the term or you can enrol in advance for the whole year and receive the concession rate. Teachers are experienced educators, industry leaders, and practising artists. The aim is to help students prepare for more independent learning and/or to start to share their ceramic work with the world!
The bonus: all enrolled students will be able to use the studio facilities after the class, until 5pm, fully included in the course fee, to develop their work. **Conditions apply
Enrolment: Each set of enrolment dates on the left refers to a different term and subject – please see below for descriptions of subject content. You can enrol for the whole year by enrolling in each of the four terms (Please use the concession ticket to receive the whole-year discount) OR enrol in one term at a time at full price (or at concession ticket if you are eligible). If you are a current student with us this term you can use the concession ticket regardless.  All terms are open for enrolment now.
Time: Mondays 1 -3.30pm (lesson), 3.30-5pm Optional Studio Access included
*previously known as the Professional Development Program
**students receive allocated storage space and are unable to use the studio for commercial work. Students have free use of the house clays or can bring and manage their own materials. No extra storage will be provided for personal materials or tools. A firing fee of $10/kg applies.
Scroll down for detailed content and book using buttons on left
2019 student comments: 
"I loved my subjects. They tapped into a lovely creative headspace. As a creative professional, I did not think it was going over old ground as there is no limit to how much help we need generating creative ideas and getting unstuck."
"I was left wanting more and more…."
"Appreciated the introduction to artists and craftspeople (past and present) and felt like this helped my overall education as a creative."
"I was most stimulated by the unlocking of new creative territories via my special object…"
"I was left itching to explore some of these ideas!"
"The course offers a perfect combination of subjects for anyone who's going to, or thinking of taking their craft more seriously. I found the teachers inspirational and very generous with their knowledge. There are no prerequisites just passion so I felt comfortable joining in. I was very grateful for this opportunity which has inspired me and given me confidence to take the next step."
(all names provided)
COURSE CONTENT
Term 1: Drawing for Design & Expression with Sarah Tomasetti 7 weeks, Feb 3-Mar 23 (Note: no class on 9 March) Experienced artist Sarah Tomasetti has created a course especially for Slow Clay Centre to give you the confidence and capability to improve communication and personal expression through drawing and design. Techniques and exercises will revolve around a solid observational core and move into experimental use of materials as confidence develops. Drawing techniques are designed to not only create an illusion of 3D space on a 2D picture field, which helps when drawing objects such as ceramics, but to unlock a personal sense of expression. Design techniques are offered that will look at both creative process and varied source material for inspiration with the idea that new objects are unique and able to be carefully developed. Students are asked to purchase some basic materials to form a kit for the future.
Tutor Sarah Tomasetti is a visual artist specialising in pre industrial techniques and materials, such as fresco, encaustic and tempera. Sarah is represented by Australian Galleries in Melbourne and Beaver Galleries in Canberra and her work is held in a number of collections in Australia and overseas. She is an experienced tertiary teacher at RMIT University and Monash University. More: sarahtomasetti.com.au
Term 2: Exploring Personal Expression with Prue Venables 8 weeks: 27 April – 22 June(no class 9 June) 
PLEASE NOTE: Term 2 is postponed due to Covid19. We have created a new "holding date" for January 18 2021 and will contact all enrolled students when we have an actual new date. Thanks for your understanding. 
It is a misconception that creativity belongs only to a lucky few. Creativity belongs to everyone. Finding a personal means of expression is an exciting and challenging process. This involves the exploration of ideas and techniques, inventiveness, observation, inquisitiveness and fun. It is a journey through open thinking, memory and the noticing of new things. Who knows where the journey will lead? This course is designed to support and develop your innate creative potential through a series of exercises, observation and discussion. You will learn to keep a journal for exploration and as a record of your thoughts and processes.
Tutor Prue Venables is an experienced educator and Australia's current Living National Treasure. She is internationally renowned as an exhibiting ceramic artist and designer and specialises in porcelain and rich glazes. Her sophisticated, clean forms reveal strong modernist influences and a hint of the industrial. Prue's early experiences with ceramics led to Harrow School of Art in UK, after which she began her studio practice and was based in London for the next 13 years before returning to Australia. She has held positions as Head of Ceramics at RMIT University, Melbourne; Creative Director of Ceramics at JamFactory Craft and Design Centre, Adelaide; and was a founding tutor at Slow Clay Centre.
Term 3: Clay, Kilns and Firing with Judith Roberts, 8 weeks 27 July – 14 September Understanding the relationship between clay, glaze, and heat is essential in the ceramics studio, with the kiln as the 'crucible' at its heart. This SPP course will cover the different types of clays and their applications as well as broadly discussing glaze materials and glazing. Judith will demystify the seemingly magical transformation that occurs when clay and glaze are fired in kilns to different temperatures using different fuels. Loading and firing kilns will be explained in detail. Regardless of whether students have their own kilns or fire using a service, an understanding of the firing process and its impact on ceramic work is vital to a successful practice. This unit aims to give you the knowledge to zoom in on your chosen areas of development with some confidence. Students who enrol in this term are also encouraged to enrol in Glaze & Colour Development, a weekend workshop with Greg Daly on May 15-17.
Judith Roberts has been involved with ceramics as a maker, teacher and exhibitor for over 30 years with a focus on ceramics. For many years, Judith offered a comprehensive workshop program in western style Raku firing techniques, while also teaching and coordinating the ceramics course at Chisholm TAFE Dandenong, until the closure of the department in 2014. She holds an MFA from RMIT using clay as a medium to investigate ideas of embedded labour and repetition and creates work for exhibitions in Australia and overseas. She is committed to encouraging others to evolve their creative capability through the immersive experience with the material offered by clay.
Term 4: A: Ceramics In Context with Gary Macphedran, 4 Weeks 5-26 October:  "We do not work alone", the famous words of Japanese artist, poet, and one of the Mingei founders of the 20th century, Kanjiro Kawai, points to the importance community, of connectedness and of the understanding of what has come before. This unit Ceramics in Context will offer an interpretation and analysis of ceramics in the context of contemporary art, design, craft and Australian culture and contemporary practice.
Gary Macphedran is an experienced art teacher with comprehensive knowledge of ceramics history and is passionate about Australian ceramics. He brings to Slow Clay Centre a comprehensive ceramics teaching career and MA in museum practice and a deep love of ceramics and knowledge of Australian ceramics in particular.
B: Small Business & Marketing with Ingrid Tufts, 4 Weeks 9-30 November: Business & Marketing Toolkit lead by experienced ceramic artist Ingrid Tufts, will present a series of topics that relate to product and business development. Different types of creative making practices, ways of getting work out into the world and how to keep track of the business side of your making practice are covered. You are encouraged to bring examples of your own work for discussion and Ingrid will use many hands-on examples of work. The outcomes of this course are practical ideas, resources and strategies that you can apply to your own practice.
Ingrid Tufts: is an experienced tutor and designer and maker who specialises in design and short run production of handmade ceramic tableware and objects. She has a large client list ranging from retailers, galleries, restaurants, cafes to cultural organisations and commercial corporations. Ingrid's studio includes production facilities, equipment for prototyping and space for professional development. She often works with other artists resulting in many collaborations over the years.
Each term is offered for enrolment separately and is limited to 9 places. If you enrol in all four terms at once please use the concession price for each term to receive the year discount. If you enrol in one term at a time please choose full price ticket unless you have a concession card. Each term is taught by industry leaders, experienced teachers and practicing artists, who will bring extraordinary inspiration and insight to the program.
Fees:
Full year: $2240 (equivalent to the concession discount)
Term by term: $595/$560 Concession
Please note: Deposits are a commitment to attend. They are non-refundable and the balance must be paid in full three weeks before the start date. When paying by deposit online the balance will be automatically deducted from the same credit card three weeks before the course start date through our booking agency We Teach Me or you will be given a link to click and pay. Please note: due to limited places and high demand, if the balance is not received before the required date we reserve the right to offer your place to someone on our cancellation list.
Refunds
Please choose your classes carefully. Due to our limited class sizes once you've booked and paid either the deposit or the full fee, we will only refund what you have paid if the class is cancelled. If you are unable to attend you may transfer your booking to a friend for no charge or, provided we can fill your place, we can hold your payment in credit for up to 12 months for a future course. Please note: we do not take any responsibility for pre-existing health issues that may be exacerbated by being in our studio. Please seek a doctor's opinion or ask us if you need moe information.
Contact: Tel 99437844   Email: info@slowclay.com