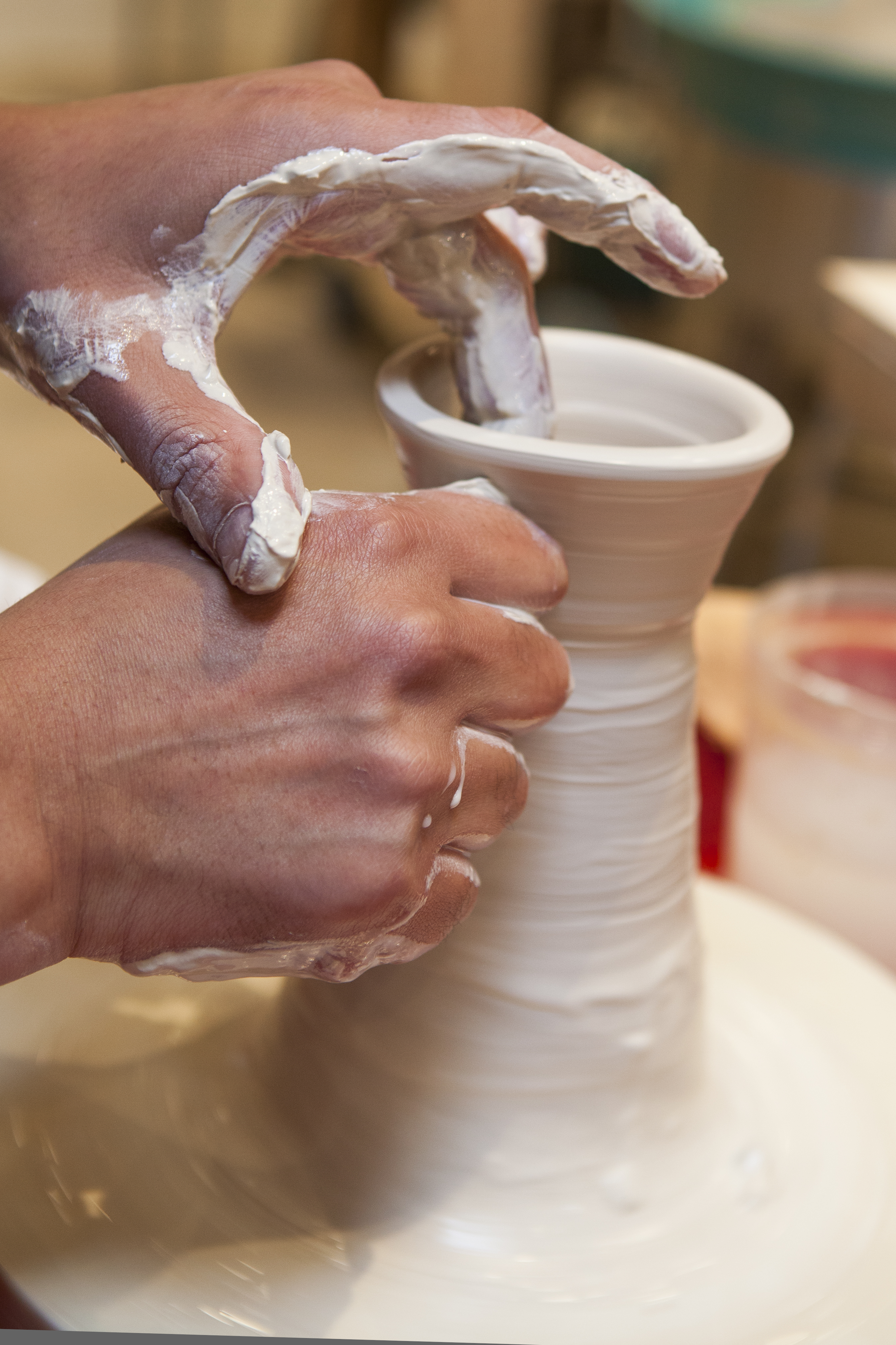 Our popular eight-week Beginner's Wheel courses will provide the perfect foundation for you!
2022 Term dates:
Term 1: 31 Jan – 30 March, 8 weeks (Bookings now closed) 
Term 2: 2 May – 20 June (Bookings now closed as courses are in progress)
Term 3: 25 July – 16 September (Bookings open: 21 June, 2022)
Term 4: 3 October – 23 November  (Booking date TBA)
No classes on public holidays.
If you booked a class that was cancelled in lockdowns or you have a credit voucher from please email us to ensure your booking is in the system. 
Times: Wednesdays 10am – 12noon and 6.30-8.30pm, Thursday 6.30-8.30pm and Friday 10am – 12noon and 1-3pm.
Please choose and book a time from the drop-down menu on the left for the 8-week course/term.
Content: Our Beginner's wheel course provides a solid foundation for working on the potter's wheel. Students will learn our unique Slow Clay method (TM) inspired by Japanese techniques that are ergonomically sound. These methods were developed by Slow Clay founder, Jane Sawyer and based on methods she learnt as an apprentice in Japan. Using our techniques students come to know the ʻpower of slow' where movements are mindful and planned to be economical whilst having the most effect. Starting your pottery journey with these tried and true techniques will give you the best and safest possible foundation and provide longevity for you. Beginner's start with a formal curriculum structure and gradually move into individual learning as their skills permit, all within a framework of open-ended enquiry, non-judgement and personal design curiosity.
Please note: This is a Beginners level course. If you have completed two or more beginner's courses with us you are eligible to join one of our Intermediate-Advanced courses.
Covid Update: Please read our FAQs carefully for terms and conditions.
New: Refund insurance is now available at the checkout to cover you if you get Covid or have to isoalte. 
Bookings: If bookings are active you will be able to see the class options on the left of this page. If not, please return a few weeks later to see new dates. When you enrol online please double-check your desired date appears correctly on the second booking page because if you make a mistake you might miss out! We only have a few spots available for new students each term due to continuing students.
Please note: If these Beginner classes are booked we suggest checking out our Weekend Intensives that offer the same content or any of our other courses. Our online hand building course Basics To Freedom can be done at home and is also a great introduction to the study of ceramics.
Enrolment Process: Booking buttons will appear approximately half way through an existing term for the forthcoming term. Please refer to the precise dates at the top of this page. If they do not appear then we are not open for enrolments yet.
Instructors: Alana Casey, Sophie Moorhouse Morris, Sophie Harle
Course fee:  $595 New students, $565 Continuing students (without a break in between), and Concession holders.
The course fee is fully inclusive of all materials, unlimited house clay, glazes and access to all studio equipment and some tools. Firing is $10/kg payable at the end of the term upon collection.
A optional basic tool set can be purchased at the check out.
Missed Classes and Studio Access Times (SATs):  SATs are for our enrolled students to access our studio facilities without a teacher for some extra quiet making or practicing time. After the first few classes, when you are more confident and familiar with our studio, you can book a wheel and attend either as an optional one-hour extension of a morning class ($10) or a full three-hour ($30) time slot.  One missed class per term can be replaced by a free SAT. Plus up to a further two free SATs are available if you get Covid or are a close contact and miss classes. All materials are included and full use of studio facilities.
Booking info:  Please refresh your browser before you intend to book! We update our website regularly and your computer might have cached previous pages. After refreshing, you will be able to see the new classes and book online on the left side of this page, provided there are spots available. Please choose your course time carefully because we do not give refunds if you make a mistake!
Waitlists or cancellation lists? Yes! If you miss out on getting a place, we can keep you on a cancellation list for a particular class until the date they start. However, if you are not offered a spot, you will need to go through the enrolment process again the following term. Please understand we do not keep waiting lists, sorry! (Imagine trying to ring everyone and waiting for answers manually!) For cancellation lists, please email us with your phone number and we will put you on it.
Terms & Conditions:
If classes are cancelled due to CoVid19 restrictions we can either refund you or roll over your booking to a new term. If you cancel due to illness we cannot refund you or offer replacement classes, sorry.
If you pay by deposit online you will receive a reminder from our booking service, We Teach Me, to pay the balance three weeks before the course start date. If the balance is not paid we reserve the right to cancel your booking and offer your place to someone else, sorry! 🙁
Please choose your classes carefully. We recognise that shit happens and life throws us changes but please understand that due to our limited class sizes once you've booked and paid either the deposit or the full fee we will only refund what you have paid if the class is cancelled by us. If you are unable to attend we suggest you share the love and transfer your booking to a friend or let us know in plenty of time and, provided we can fill your place from our cancellation list, we will hold your payment in credit for up to 12 months for a future course.
Telephone: 99437844
Email: info@slowclay.com
Covid update: All classes are running as scheduled for fully vaccinated people and we are still wearing masks indoors. Please understand we might need to reschedule classes at short notice. If so, we always try to find an alternative date. If you have already enrolled we will keep you updated via email.
NEW: Covid cancellation insurance is now available at the checkout to cover all refunds and we strongly advise you to purchase it in case you cannot attend at the last minute because we do not give refunds. We do, however, offer two free Studio Access Times if you have to miss classes due to Covid. Please familiarise yourself with our FAQs.