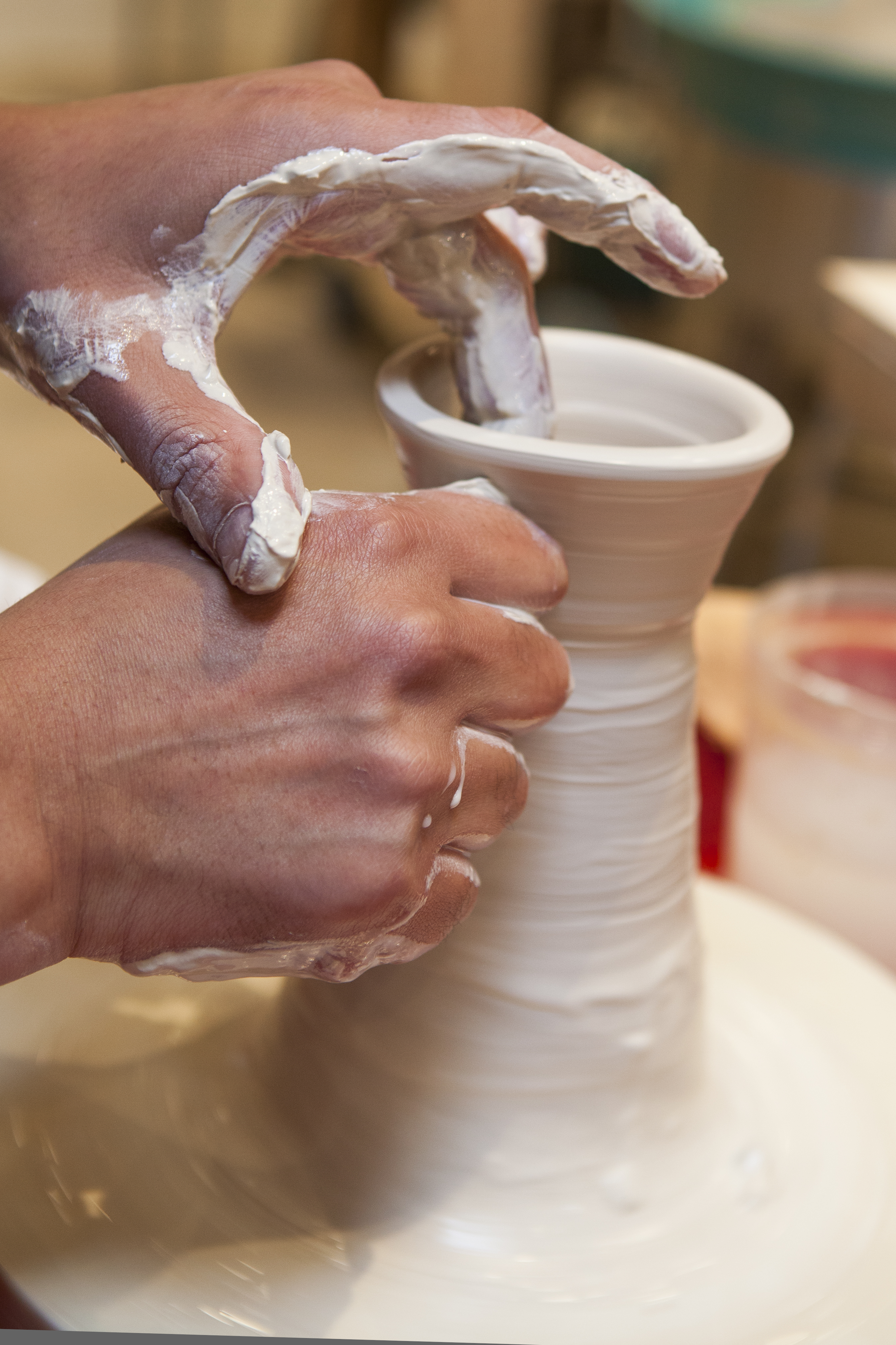 Term 3 dates: 8 weeks from 24 July – 13 September 
Term 4 dates: 8 weeks from 9 October – 29 November
x5 different class options each term: Wednesday – Friday 10am-12noon and Wednesday – Thursday 6.30-8.30pm
Note: bookings will be activated on Wednesday 12 June, 2pm onwards. Please return to this page then and make sure you refresh your browser and the course options will be available to book. Please double-check your class date is correct when booking. We apologise that we only have a few spots available for new students each term due to continuing students. 
Our popular eight-week Beginner's Wheel courses are offered on Wednesday, Thursday and Friday 10am – 12noon or Wednesday and Thursday 6.30-8.30pm.  Please understand we have limited places available due to small class sizes and bookings by continuing students.
Students choose and book a time and stick to that for the duration of the 8-week course/term. Our Beginner's wheel course provides a solid foundation for working on the potter's wheel but we also encourage you to try the Form & Surface course and Porcelain Small Objects & Wearables course. Students have priority to hold their place from term to term on a continuing basis.
Content: Students will learn our unique Slow Clay method (TM) inspired by Japanese techniques that are ergonomically sound. Using our techniques they come to know the ʻpower of slow' where movements are planned to be economical whilst having the most effect. Beginner's start with a formal structure and gradually move to individual learning as their skills permit, all within a framework of open-ended enquiry and personal design development.
Please note: This is a Beginners level course. If you have completed two or more beginner's courses with us you are eligible to join one of our Intermediate courses.
Times: Choose one of Wednesday, Thursday or Friday Mornings (10am – 12noon) or Weds and Thurs evenings (6.30 – 8.30pm).
Terms dates: Term 1: 6 Feb – 6 April, Term 2: 1 May – 21 June, Term 3: 24 July – 14 Sept, Term 4: 9 Oct-29 Nov. No classes on public holidays.
Enrolment Process: Enrolments will open approximately half way through an existing term for the forthcoming term. Please keep an eye on top of this page for specific dates.
Instructors: Alana Casey and Grace Brown
Course fee:  $535 New students, $508 Continuing students (without a break in between), and Concession holders
The course fee is fully inclusive of all materials, unlimited house clay and glazes and access to all studio equipment and tools. Firing is $10/kg payable at the end of the term upon collection.
SATs: Enrolled students may also attend our Studio Access Times (SATs) either as an optional one-hour extension of their morning class ($10) or a three-hour time slot on Mondays or Tuesdays 12-3pm and Saturday 10am-1pm ($30).  Continuing students students receive 2x 3-hr SATs per term for free as a loyalty reward. All materials are included and full use of studio facilities. All students can make up one missed class in any SAT for free, but it must be used within the same term.
Booking info: We open for new bookings for each term approx half way through a current term. Please note the dates above and refresh your browser on the day and you will be able to see the classes and book online on the left side of this page, provided there are spots available.  You will be re-directed to another booking page AND you must choose your course time AGAIN on the second page from the drop down menu. Please choose carefully because we do not give refunds if you make a mistake! We do not keep waiting lists, sorry, but we do keep cancellation lists so if you miss out please email us with your phone number and we will put you on a cancellation list.
Terms & Conditions:
If you pay by deposit online the balance will be automatically deducted from the same credit card three weeks before the course start date through our booking agency We Teach Me.
Please choose your classes carefully. We recognise that shit happens and life throws up changes but please understand that due to our limited class sizes once you've booked and paid either the deposit or the full fee we will only refund what you have paid if the class is cancelled by us. If you are unable to attend we suggest you share the love and transfer your booking to a friend or let us know in plenty of time and, provided we can fill your place from our cancellation list, we will hold your payment in credit for up to 12 months for a future course.
Telephone: 99437844
Email: info@slowclay.com