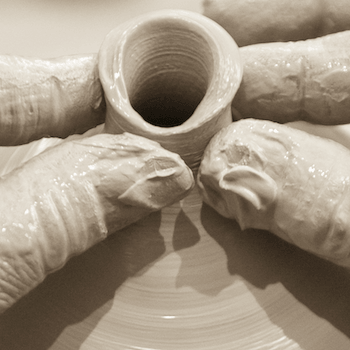 The courses on this page are for Intermediate level.
Pre-requisites: a minimum two or more beginner's courses with us. We prefer you complete our Beginner's classes before entering the Intermediate level because we teach unique methods. If you have learnt elsewhere or are unsure of your level please call us on 99437844 to discuss before enrolling as we do not give refunds.
Content: These eight-week courses are offered four times per year ie: 4 Terms per year. Students enrol one term at a time. The courses provide a developmental pathway for learning more complex techniques and encourage individual development and designs. Whilst primarily focussing on the potter's wheel, we also introduce some hand-building techniques and encourage experimentation.
Students will build upon the Japanese techniques they learnt in our Beginners classes and experience a range of other techniques suitable for larger and more complex forms. They continue to underpin their practice with awareness of ergonomically sound techniques. Demonstrations to the group are offered in every class and students are supported to move to individual design and progress as and when their skills permit.
Students have the option to hold their place from term to term.
Times: Choose one of Monday or Tuesday Mornings (10am – 12pm) or evenings (6.30 – 8.30pm).
2018 dates:
Term 1: 29 January – 27 March (public holiday 12 Mar)
Term 2: 30 April – 19 June (public holiday 11 June)
Term 3: 23 July – 11 September
Term 4: 8 October – 4 December (public holiday 5 and 6 November)
Instructor: Jane Sawyer
New Booking Info: In an effort to reduce the rush on our website we are trialling a new booking style for Term 2 2018. It means we will open up for booking Monday courses on Monday 12 March and Tuesday courses on Tuesday 13 March.
Fees: $496 Earlybird/FT Student/FT Potter and conc, $530 Normal. The class fee is fully inclusive of materials, unlimited clay and glazes and access to all studio equipment and tools. Firing is $9.50/kg payable at the end of the term upon collection.

All current enrolled students may attend our optional Studio Access Times (SATs) which are offered four times per week during term times only. Options are Monday & Tuesdays, 12-3pm and Friday & Saturdays 10am - 1pm. The fee is $30 per session fully inclusive of materials and all studio facilities. Students who enrol in consecutive terms receive a loyalty reward of two free SATs in the following term (worth $60 + unlimited clay). Also, all students can make up one missed class in any SAT within the same term for free. Our Saturday morning SATs are now able to be booked online to avoid disappointment. All other SATs are walk-in only: first in best dressed. We reserve the right to cancel any SAT at short notice and will always post it on our Facebook page so please check it before leaving home!
Please note: Deposits are a commitment to attend. They are non-refundable and the balance must be paid in full three weeks before the start date. When paying by deposit online the balance will be automatically deducted from the same credit card three weeks before the course start date through our booking agency We Teach Me or you will be given a link to click and pay. Please note: due to limited places and high demand, if the balance is not received before the required date we reserve the right to offer your place to someone on our cancellation list.
Refunds
Please choose your classes carefully. Due to our limited class sizes once you've booked and paid either the deposit or the full fee we will only refund what you have paid if the class is cancelled. If you are unable to attend you may transfer your booking to a friend for no charge or, provided we can fill your place, we can hold your payment in credit for up to 12 months for a future course.